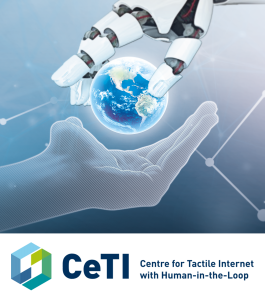 The "Centre for Tactile Internet with Human-in-the-Loop" (CeTI) of TU Dresden aims to catapult the cooperation between man and machine to new heights.
In the future, people should be able to interact in real time with interconnected, automated systems in both the real and virtual world. At the Cluster of Excellence CeTI, scientists from the fields of electrical engineering, communication technology, computer science, psychology, neuroscience and medicine are working together with researchers from TU Munich, the German Aerospace Center, the Fraunhofer-Gesellschaft, as well as international scientific institutions, to pursue this goal. They take an interdisciplinary approach to investigating key areas of human control in the cooperation between man and machine, software and hardware design, sensor and actuator technologies and communication networks.
The research forms the basis for novel applications in medicine, industry (Industry 4.0, co-working) and the 'Internet of Skills' (education, rehabilitation).
CeTI creates an international, open and flexible environment, in order to educate the next generation of exceptional researchers and to bolster their careers. Through facilitating this technology transfer, CeTI will accompany this fundamental technological change, whilst taking into account the associated social questions in the development process.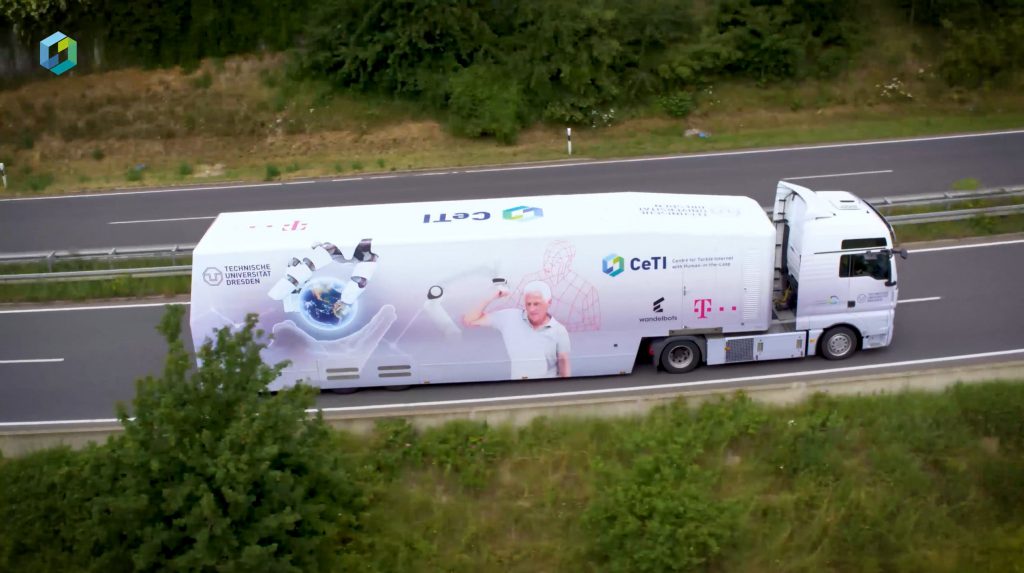 You can visit the project's official website for further information.
Related Publications
@article{Reipschlaeger2021,
author = {Patrick Reipschl\"{a}ger and Tamara Flemisch and Raimund Dachselt},
title = {Personal Augmented Reality for Information Visualization on Large Interactive Displays},
journal = {IEEE Transactions on Visualization and Computer Graphics},
volume = {27},
issue = {2},
year = {2021},
month = {2},
location = {Salt Lake City, UT, USA},
numpages = {11},
doi = {10.1109/TVCG.2020.3030460},
publisher = {IEEE},
keywords = {Augmented Reality, Information Visualization, InfoVis, Large Displays, Immersive Analytics, Physical Navigation, Multiple Coordinated Views}
}

@inproceedings{Alaghbari2020,
author = {Sarah Alaghbari and Annett Mitschick and Gregor Blichmann and Martin Voigt and Raimund Dachselt},
title = {Achiever or Explorer? Gamifying the Creation Process of Training Data for Machine Learning},
booktitle = {Mensch und Computer 2020 - Tagungsband},
year = {2020},
month = {9},
doi = {10.1145/3404983.3405519},
url = {https://dl.acm.org/doi/10.1145/3404983.3405519},
keywords = {gamification, object labeling, training data, machine learning}
}

@inproceedings{Fuhrmann2020,
author = {Robert Fuhrmann and Anke Lehmann and Annett Mitschick and Ricardo Langner and Raimund Dachselt},
title = {CoFind: A Browser Plugin for Investigating Co-located Collaborative Web Search},
booktitle = {Mensch und Computer 2020 - Tagungsband},
year = {2020},
month = {9},
pages = {425},
numpages = {5},
doi = {10.1145/3404983.3410012},
publisher = {ACM},
address = {New York},
keywords = {collaborative information seeking, awareness, web search}
}

@inproceedings{Klamka2020,
author = {Konstantin Klamka and Tom Horak and Raimund Dachselt},
title = {Watch+Strap: Extending Smartwatches with Interactive StrapDisplays},
booktitle = {Proceedings of the ACM Conference on Human Factors in Computing Systems},
year = {2020},
month = {4},
location = {Honolulu, Hawaii, USA},
numpages = {15},
doi = {10.1145/3313831.3376199},
publisher = {ACM}
}

@inproceedings{Klamka2020b,
author = {Konstantin Klamka and Raimund Dachselt and J\"{u}rgen Steimle},
title = {Rapid Iron-On User Interfaces: Hands-on Fabrication of Interactive Textile Prototypes},
booktitle = {Proceedings of the ACM Conference on Human Factors in Computing Systems},
year = {2020},
month = {4},
location = {Honolulu, Hawaii, USA},
doi = {10.1145/3313831.3376220},
publisher = {ACM}
}

@inproceedings{Klamka2020c,
author = {Konstantin Klamka and Raimund Dachselt and J\"{u}rgen Steimle},
title = {Demonstrating Rapid Iron-On User Interfaces: Hands-on Fabrication of Interactive Textile Prototypes},
booktitle = {Proceedings of the 2020 CHI Conference Extended Abstracts on Human Factors in Computing Systems},
year = {2020},
month = {4},
isbn = {978-1-4503-6819-3/20/04},
location = {Honolulu, Hawaii, USA},
numpages = {4},
doi = {10.1145/3334480.3383139},
publisher = {ACM}
}

@inproceedings{Reipschlaeger2020,
author = {Patrick Reipschl\"{a}ger and Severin Engert and Raimund Dachselt},
title = {Augmented Displays: Seamlessly Extending Interactive Surfaces with Head-Mounted Augmented Reality},
booktitle = {Proceedings of the 2020 CHI Conference Extended Abstracts on Human Factors in Computing Systems},
year = {2020},
month = {4},
isbn = {978-1-4503-6819-3/20/04},
location = {Honolulu, Hawaii, USA},
numpages = {4},
doi = {10.1145/3334480.3383138},
publisher = {ACM},
address = {New York},
keywords = {Augmented Reality, Interactive Surfaces, Augmented Displays, Touch+Pen Interaction, Design, 3D Modeling, Architecture, DesignAR}
}

@inproceedings{peetz2019_bodyhub,
author = {Andreas Peetz and Konstantin Klamka and Raimund Dachselt},
title = {BodyHub: A Reconfigurable Wearable System for Clothing},
booktitle = {The 32nd Annual ACM Symposium on User Interface Software and Technology Adjunct Proceedings},
year = {2019},
month = {10},
isbn = {978-1-4503-6817-9/19/10},
location = {New Orleans, Louisiana, USA},
numpages = {3},
doi = {10.1145/3332167.3357108},
url = {https://doi.org/10.1145/3332167.3357108},
publisher = {ACM},
address = {New York, NY, USA},
keywords = {Wearable, E-Textiles, Smart Fabric, Rapid Prototyping, 3D Printing, Wearable Construction Kits, Modular System}
}

@inproceedings{bueschel2019,
author = {Wolfgang B\"{u}schel and Annett Mitschick and Thomas Meyer and Raimund Dachselt},
title = {Investigating Smartphone-based Pan and Zoom in 3D Data Spaces in Augmented Reality},
booktitle = {Proceedings of the 21st International Conference on Human-Computer Interaction with Mobile Devices and Services},
series = {MobileHCI '19},
year = {2019},
month = {10},
isbn = {9781450368254},
location = {Taipei, Taiwan},
pages = {1--13},
numpages = {13},
doi = {10.1145/3338286.3340113},
url = {https://doi.org/10.1145/3338286.3340113},
publisher = {ACM},
address = {New York, NY, USA},
keywords = {Augmented Reality, 3D Navigation, 3D Data Exploration, Pan \& Zoom, Interaction Techniques, Immersive Visualization}
}

@proceedings{Klamka2019b,
author = {Konstantin Klamka and Patrick Reipschl\"{a}ger and Raimund Dachselt},
title = {CHARM: Cord-based Haptic Augmented Reality Manipulation},
booktitle = {21st International Conference on Human-Computer Interaction - Virtual, Augmented and Mixed Reality. Multimodal Interaction},
series = {Lecture Notes in Computer Science (11574) - Virtual, Augmented and Mixed Reality: Multimodal Interaction},
volume = {9},
year = {2019},
month = {7},
isbn = {978-3-030-21607-8},
location = {Orlando, Florida, USA},
pages = {96--114},
numpages = {19},
doi = {10.1007/978-3-030-21607-8_8},
url = {https://doi.org/10.1007/978-3-030-21607-8_8},
publisher = {Springer International Publishing},
address = {Cham},
keywords = {Augmented Reality; Haptic Feedback; Elastic Input; Cord Input; Radial Menu; 3D Interaction; 3D Transformation; Wearable Computing.}
}