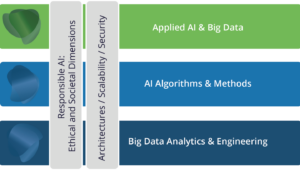 ScaDS.AI (Center for Scalable Data Analytics and Artificial Intelligence) is a center for Data Science, Artificial Intelligence, and Big Data with locations in Dresden and Leipzig.
Within this center, we work on the subproject Scalable Visual Computing, which is embedded into the area of AI Algorihms and Methods. There, we improve, invent, and apply scalable Machine Learning and AI methods for generating, analyzing, and interacting with visual information.
These methods enable novel applications in Image Analysis, Computer Vision, Computer Graphics, Visualization and Human-Computer
Interaction. This includes ScaDS.AI applications in the life sciences and environmental sciences.
To be more precise, our contribution to this subproject will focus on the development and investigation of multiscale data visualization for heterogeneous device environments, responsive data visualization, perception for multi-scale visualization, and powerful multimodal and natural interaction techniques. Such research will allow us to design efficient and intuitive systems for the exploration and comprehension of ML-driven data.
Further information about the project can be found on the official ScaDS.AI website.
Related Publications
@inproceedings{pmc-vis-2023,
author = {Max Korn and Juli\'{a}n M\'{e}ndez and Sascha Kl\"{u}ppelholz and Ricardo Langner and Christel Baier and Raimund Dachselt},
title = {PMC-VIS: An Interactive Visualization Tool for Probabilistic Model Checking},
booktitle = {Proceedings of the 21st International Conference on Software Engineering and Formal Methods},
series = {Lecture Notes in Computer Science},
year = {2023},
month = {11},
location = {Eindhoven Netherlands},
doi = {10.1007/978-3-031-47115-5_20},
publisher = {Springer}
}

List of additional material

@inproceedings{mendez2023explainability,
author = {Juli\'{a}n M\'{e}ndez and Marc Satkowski and Rufat Rzayev},
title = {How Does Explainability Look in Hybrid User Interfaces?},
booktitle = {Proceedings of 2023 IEEE International Symposium on Mixed and Augmented Reality Adjunct (ISMAR-Adjunct)},
series = {ISMAR '23},
year = {2023},
month = {10},
location = {Sydney},
doi = {10.1109/ISMAR-Adjunct60411.2023.00058},
publisher = {IEEE}
}

List of additional material

@inproceedings{satkowski2023fantastic,
author = {Marc Satkowski and Juli\'{a}n M\'{e}ndez},
title = {Fantastic Hybrid User Interfaces and How to Define Them},
booktitle = {Proceedings of 2023 IEEE International Symposium on Mixed and Augmented Reality Adjunct (ISMAR-Adjunct)},
series = {ISMAR '23},
year = {2023},
month = {10},
location = {Sydney},
doi = {10.1109/ISMAR-Adjunct60411.2023.00057},
publisher = {IEEE}
}

List of additional material

@inproceedings{luo2023pearl,
author = {Weizhou Luo and Zhongyuan Yu and Rufat Rzayev and Marc Satkowski and Stefan Gumhold and Matthew McGinity and Raimund Dachselt},
title = {PEARL: Physical Environment based Augmented Reality Lenses for In-Situ Human Movement Analysis},
booktitle = {Proceedings of the 2023 CHI Conference on Human Factors in Computing Systems},
series = {CHI '23},
number = {381},
year = {2023},
month = {04},
isbn = {9781450394215},
location = {Hamburg, Germany},
numpages = {15},
doi = {10.1145/3544548.3580715},
url = {https://doi.org/10.1145/3544548.3580715},
publisher = {Association for Computing Machinery},
address = {New York, NY, USA},
keywords = {Immersive Analytics, physical referents, augmented/mixed reality, affordance, In-situ visualization, movement data analysis}
}

List of additional material

@inproceedings{ellenberg2023spatiality,
author = {Mats Ole Ellenberg and Marc Satkowski and Weizhou Luo and Raimund Dachselt},
title = {Spatiality and Semantics - Towards Understanding Content Placement in Mixed Reality},
booktitle = {Extended Abstracts of the 2023 CHI Conference on Human Factors in Computing Systems},
series = {CHI EA'23},
year = {2023},
month = {04},
location = {Hamburg, Germany},
doi = {10.1145/3544549.3585853},
publisher = {ACM},
address = {New York, NY, USA}
}

List of additional material

@inproceedings{krug2023point,
author = {Katja Krug and Marc Satkowski and Reuben Docea and Tzu-Yu Ku and Raimund Dachselt},
title = {Point Cloud Alignment through Mid-Air Gestures on a Stereoscopic Display},
booktitle = {Extended Abstracts of the 2023 CHI Conference on Human Factors in Computing Systems},
series = {CHI EA'23},
year = {2023},
month = {04},
location = {Hamburg, Germany},
doi = {10.1145/3544549.3585862},
publisher = {ACM},
address = {New York, NY, USA}
}

List of additional material