On January 26, 2023, Konstantin Klamka successfully defended his PhD thesis.
His topic Blending the Material and Digital World for Hybrid Interfaces addresses the question, how future user interfaces can be able to provide useful digital functionality while maintaining their physical properties and familiar patterns of use in the real world.
We are delighted that Albrecht Schmidt from the Ludwig-Maximilians-Universität (LMU) Munich agreed to serve as external reviewer for this thesis. After his great defense, the entire Interactive Media Lab and further guests came together to celebrate in a traditional restaurant.
We congratulate Konstantin Klamka on his remarkable dissertation and wish him all the best for the future.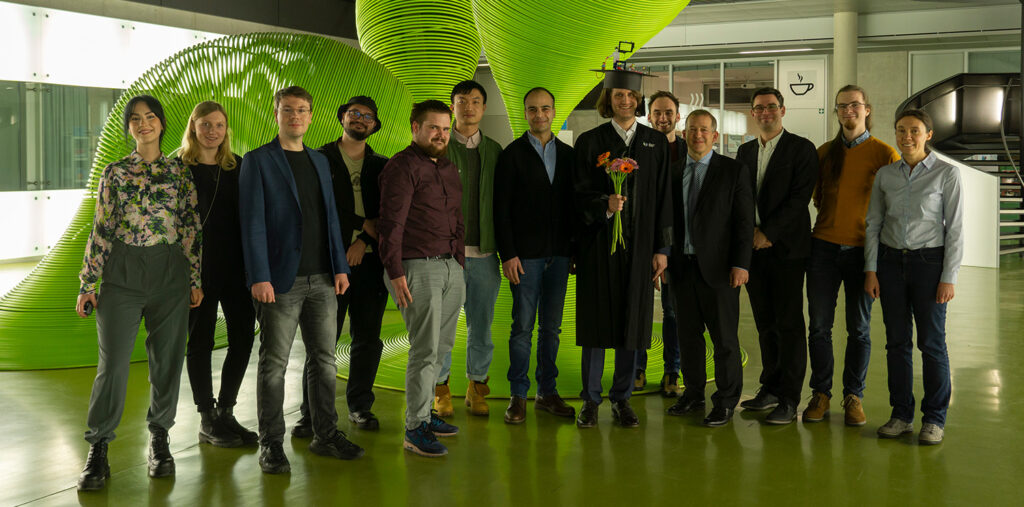 Selected publications of Konstantin's PhD thesis
@inproceedings{Klamka2020,
author = {Konstantin Klamka and Tom Horak and Raimund Dachselt},
title = {Watch+Strap: Extending Smartwatches with Interactive StrapDisplays},
booktitle = {Proceedings of the CHI Conference on Human Factors in Computing Systems},
year = {2020},
month = {4},
location = {Honolulu, Hawaii, USA},
pages = {72:1--72:15},
doi = {10.1145/3313831.3376199},
publisher = {ACM}
}

List of additional material

@inproceedings{Klamka2020b,
author = {Konstantin Klamka and Raimund Dachselt and J\"{u}rgen Steimle},
title = {Rapid Iron-On User Interfaces: Hands-on Fabrication of Interactive Textile Prototypes},
booktitle = {Proceedings of the 2020 ACM Conference on Human Factors in Computing Systems},
year = {2020},
month = {4},
location = {Honolulu, Hawaii, USA},
doi = {10.1145/3313831.3376220},
publisher = {ACM}
}

List of additional material

@inproceedings{klamka2017a,
author = {Konstantin Klamka and Raimund Dachselt},
title = {IllumiPaper: Illuminated Interactive Paper},
booktitle = {Proceedings of the SIGCHI Conference on Human Factors in Computing Systems},
year = {2017},
month = {5},
location = {Denver, CO, USA.},
pages = {5605--5618},
numpages = {14},
doi = {10.1145/3025453.3025525},
url = {http://dx.doi.org/10.1145/3025453.3025525},
publisher = {ACM},
keywords = {Digital pen and paper, electro-luminescence, pen interaction, visual feedback, Anoto, thin-film display, augmented paper}
}

@inproceedings{Klamka2015a,
author = {Konstantin Klamka and Raimund Dachselt},
title = {Elasticcon: Elastic Controllers for Casual Interaction},
booktitle = {Proceedings of the 17th International Conference on Human-Computer Interaction with Mobile Devices and Services},
year = {2015},
month = {8},
isbn = {978-1-4503-3652-9},
location = {Copenhagen, Denmark},
pages = {410--419},
numpages = {10},
doi = {10.1145/2785830.2785849},
url = {http://dx.doi.org/10.1145/2785830.2785849},
acmid = {2785849},
publisher = {ACM},
address = {New York, NY, USA},
keywords = {mobile interaction, elastic input, mobile input device, wearable, string-based interaction, casual interaction}
}

List of additional material