On July 7, 2021, Tom Horak successfully defended his PhD thesis.
His topic Visual Data Analysis in Device Ecologies addresses the question, how multiple co-located computing devices can be used in synergistic combination for facilitating visual data exploration and analysis.

Within his research, Tom Horak connected in innovative ways research from human-computer interaction and information visualization and proposed novel approaches.
We are delighted that Jo Vermeulen from Autodesk Research (Toronto) agreed to serve as external reviewer for this thesis. After his great defense, the entire Interactive Media Lab and further guests came together to celebrate in a great restaurant with a gorgeous view on the Elbe river.
We congratulate Tom Horak on his remarkable dissertation and wish him all the best for the future.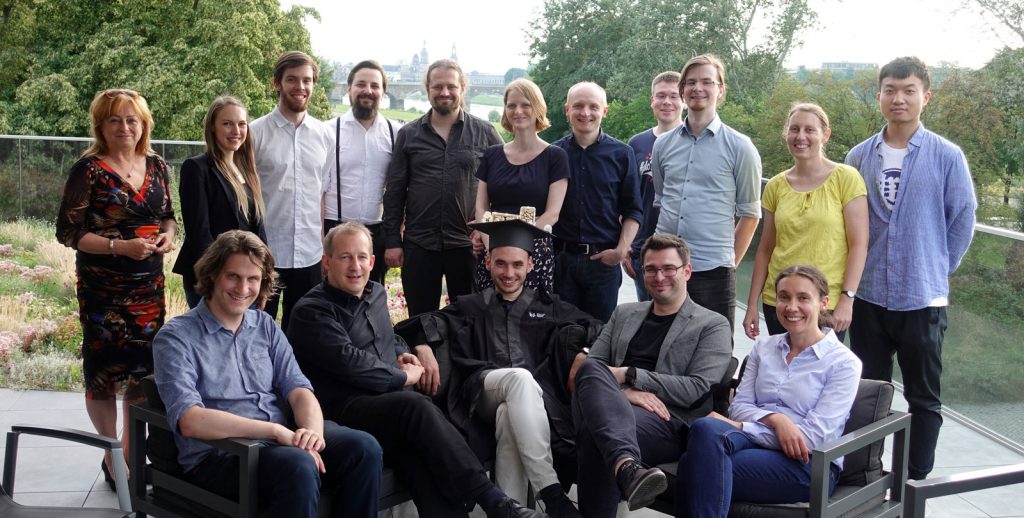 Selected publications of Tom's PhD thesis
@article{Horak2020ResponsiveMatrixCells,
author = {Tom Horak and Philip Berger and Heidrun Schumann and Raimund Dachselt and Christian Tominski},
title = {Responsive Matrix Cells: A Focus+Context Approach for Exploring and Editing Multivariate Graphs},
journal = {IEEE Transactions on Visualization and Computer Graphics},
issue = {27},
number = {2},
year = {2021},
month = {2},
location = {Salt Lake City, UT, USA},
pages = {1644--1654},
doi = {10.1109/TVCG.2020.3030371},
publisher = {IEEE}
}

List of additional material

@inproceedings{Klamka2020,
author = {Konstantin Klamka and Tom Horak and Raimund Dachselt},
title = {Watch+Strap: Extending Smartwatches with Interactive StrapDisplays},
booktitle = {Proceedings of the CHI Conference on Human Factors in Computing Systems},
year = {2020},
month = {4},
location = {Honolulu, Hawaii, USA},
pages = {72:1--72:15},
doi = {10.1145/3313831.3376199},
publisher = {ACM}
}

List of additional material

@inproceedings{Horak2019,
author = {Tom Horak and Andreas Mathisen and Clemens N. Klokmose and Raimund Dachselt and Niklas Elmqvist},
title = {Vistribute: Distributing Interactive Visualizations in Dynamic Multi-Device Setups},
booktitle = {Proceedings of the CHI Conference on Human Factors in Computing Systems},
year = {2019},
month = {5},
location = {Glasgow, Scotland, UK},
pages = {616:--616:13},
doi = {10.1145/3290605.3300846},
publisher = {ACM}
}

List of additional material

@inproceedings{Horak2018,
author = {Tom Horak and Sriram Karthik Badam and Niklas Elmqvist and Raimund Dachselt},
title = {When David Meets Goliath: Combining Smartwatches with a Large Vertical Display for Visual Data Exploration},
booktitle = {Proceedings of the CHI Conference on Human Factors in Computing Systems},
year = {2018},
month = {4},
location = {Montreal, QC, Canada},
pages = {19:1--19:13},
doi = {10.1145/3173574.3173593},
url = {https://doi.org/10.1145/3173574.3173593},
publisher = {ACM}
}

List of additional material

@article{Langner:2018aa,
author = {Ricardo Langner and Tom Horak and Raimund Dachselt},
title = {VisTiles: Coordinating and Combining Co-located Mobile Devices for Visual Data Exploration},
journal = {IEEE Transactions on Visualization and Computer Graphics},
volume = {24},
issue = {1},
year = {2018},
month = {1},
location = {Phoenix, Arizona USA},
pages = {626--636},
numpages = {11},
doi = {10.1109/TVCG.2017.2744019},
url = {http://dx.doi.org/10.1109/TVCG.2017.2744019},
publisher = {IEEE},
keywords = {collaboration, data visualization, mobile communication, prototypes, smart phones, visualization, mobile devices, coordinated \& multiple views, cross-device interaction, multi-display environment}
}